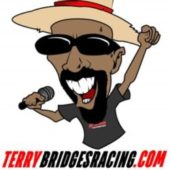 Well race fans…It's the finale this weekend for Salem Speedway! 2 Days of what should be some awesome race action..Ding. Ding!.. the "Rage in the Cage" round two of the Cage Kart Challenge….Round one provided over 9 grand in cash and prizes! Round two is rumored to be close to the same? Who will take round two? Christian Osborn took round one with a performance that may be unmatched this season, as he dominated the round one field..,Osborne stands to capture some major "FROGSKINS" if he can repeat his round one win.
it's going to be a little tougher this time around with "Jammin" Johnny Burke coming off a big Saturday night win a couple of weeks ago, Burke who tore some ligaments in his ankle this week, has been cleared by doctors and is expected to be in attendance. Also coming off a big second day win two weeks ago, "C-Money" Casey Smith who has been rolling tough in the second half of the season will also be making sure that Osborne is on his game.
Speaking of game, the "Playboy" Kenny Boardman Jr. is also expected to be in attendance "Spittin' some game" looking for a well needed victory…the ever so "Schmoove" Devon Borden is ALWAYS a wheel that cannot be overlooked,..as well as Dylan Lambirth who has been quiet as of late,and could easily wheel on up and spoil Osborne's party…add the "Scofield Kid" to the mix and it's recipe for some serious hookin' & whoopin"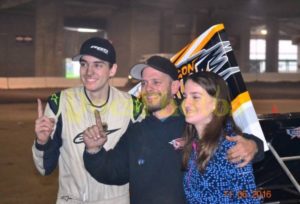 No joke, Christian Osborne is going to have to have a performance equal to,,or better than, round one if he is to have any hopes in sweeping this challenge. The question remains is he up to it? In this class, ,it always up for grabs, it's going to take an "A" game performance to win this round. Anything less and they will be handed their "you know what",guaranteed.
Salem Indoor Speedway's "Rage in the Cage" Finale Round 2 of the Cage Kart Challenge brought to you by Scofield Karts-N-Parts, O'Hagan';s Kart Supply, and Speed City LLC. going on all day Saturday and Saturday Night March 11th and all day Sunday March 12th..The wingless 500's, dwarfs, micro's, midgets, ,and mIni stocks are also on tap…Bring friend and come check out the final "Slideways Weekend" of the indoor season. For more info, check out the Salem Speedway Facebook page or www.salemspeedway.wordpress.com/salemspeedway1